100 Doors Game: Escape from School
| | |
| --- | --- |
| 🔥 Release Date | 01 September 2023 |
| 👾 Genre | Puzzle Hidden Object |
| ✅ Game Developer | Peaksel |
| 💻 OS | Windows 11/10/8/7 |
| 🇺🇸 Language | English (United States) |
| 📁 File Size | 58 Mb |
| 💰 Price | Free! |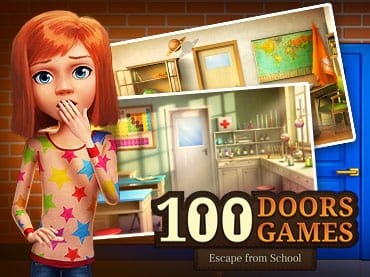 100 Doors Game: Escape from School
Unlock the Doors of Intrigue in 100 Doors Game: Escape from School
Are you ready for a mind-bending challenge that will test your wits and leave you craving for more? Prepare yourself for a captivating journey through the depths of the school, where each door holds a new mystery and every puzzle stands as a gateway to freedom. Brace yourself for the ultimate puzzle adventure in 100 Doors Game: Escape from School!
Step into the shoes of a daring student trapped inside a mysterious school filled with locked doors and enigmatic puzzles. Your mission? Unravel the secrets that lie behind each door, one perplexing puzzle at a time. With your keen eye and sharp mind, nothing can stand in your way of escaping!
Features Unlock the Doors: Encounter a wide array of locked doors, each guarding secrets and challenges that will put your puzzle-solving skills to the test. Engaging Puzzles: Dive into a world of brain-teasers and riddles that will challenge your logic, observation, and critical thinking abilities. Immersive School Setting: Explore a meticulously crafted school environment, filled with atmospheric details that enhance your gaming experience. Hidden Secrets: Uncover hidden objects, clues, and codes that will unlock the mysteries of the school and lead you closer to your escape. Progressive Difficulty: As you advance, the puzzles become increasingly intricate and complex, keeping you on your toes and hungry for more.
Download Free Game 100 Doors Game: Escape from School
Download