Turn a Fledgling Theater into the King of Cinema in Cinema Tycoon 2: Movie Mania
What's Free - Play game for 100 minutes.
File Size - 32 MB
Play It On - Win XP/Vista/7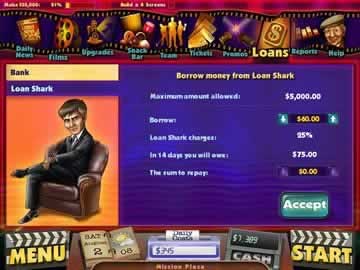 Turn a Fledgling Theater into the King of Cinema in Cinema Tycoon 2: Movie Mania
Make the Premier Cinema in Town!
Take the reins in Cinema Tycoon 2: Movie Mania as you turn the local Cineplex into a 5-star theater. Help Mr. Pickwick rebuild his ailing theater chain and take on the remorseless mega-conglomerates.
Games with the same theme
Meet Mr. Pickwick's goals for each assigned theater, which range from rundown claptraps to slick suburban multiplexes. You'll have to tap into the vibe of each town because every locale has varying types of customers and general temperaments.
Deep Game Play, Yet Simple
Cinema Tycoon 2: Movie Mania seems like many other money-managing challenges out there, with an array of menu screens, pull tabs, and balance sheets. However, the beauty of the game is how shockingly simple this data is presented.
Rather than becoming overwhelmed with details, the game offers graphical feedback in the form of colored meters, smiley faces, and animated sequences with miniaturized patrons. Even novices can quickly see the direct connection between their actions and the resulting consequences.
A Casual Spin on a Classic Genre
With a streamlined setup and a depth of game play, Cinema Tycoon 2: Movie Mania delivers on its promise of blockbuster entertainment. Find hours of play as you upgrade the theaters with valet parking, arcades, and tasty new snacks.
If you like business simulations, then download Cinema Tycoon 2: Movie Mania today and see if you have what it takes to be a Cinema Tycoon!
Screenshots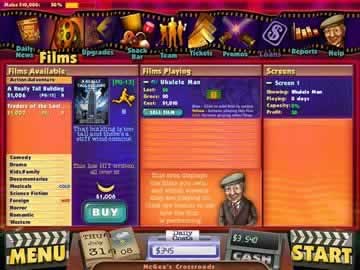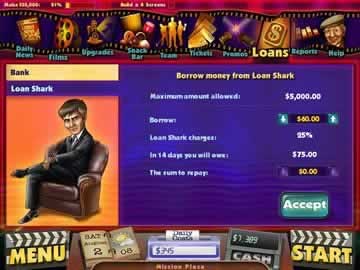 Download Free Game Turn a Fledgling Theater into the King of Cinema in Cinema Tycoon 2: Movie Mania
Download