Become a Force of Reckoning as You Hack and Slash through Hell!
What's Free - Play game for 100 minutes.
File Size - 131 MB
Play It On - Win XP

Become a Force of Reckoning as You Hack and Slash through Hell!
An Unmatched Classic
Evil is stirring in the ground beneath your feet. Only the only the bravest, strongest and most clever can hope to silence it. Enter the grim world of Diablo II, one of the most addictive games ever devised.
Games with the same theme
Assuming the role of a lone hero, you will take a long and arduous journey into Hell. Legions of powerful and horrific demons await you, but with a good sword arm and a grimoire of spells, you just might be able to slay them down to the last imp.
As you fight, you will grow with experience, learn even more powerful abilities, and amass higher quality items that will hopefully be enough to take on Hell's mightiest denizens.
Terror Never Dies
The people of Sanctuary believed that their nightmares were over. A lone hero did the impossible; he journeyed into Hell, defeated Diablo, Lord of Terror, and imprisoned the fiend's soulstone into his own body. It was a harrowing trial, but worth it in the end for the peace it would undoubtedly bring.
Unfortunately, it wasn't meant to be. The hero may have been strong enough to best Diablo in physical combat, but he could not win the battle for his own soul. Diablo corrupted him, took the body for himself, and unleashed Hell upon Sanctuary in greater force!
Worse, he is no longer alone. By setting his fellow Prime Evils free, Diablo has ensured that nothing can possibly stand against Hell's incursion. Sanctuary believed its nightmare was over, but it has only just begun.
Experience a dark fantasy story told over four acts in the rich world of Sanctuary.
Play as five distinct classes.
Explore a series of randomly-generated dungeons that change with every play-through.
Face over 150 different enemies, including Oblivion Knights, skulking Claw Vipers, and hideous Vile Demons.
Pillage thousands of powerful potions, weapons, armor sets and runes from the corpses of your slain foes.
Travel through Hell by yourself or join a team of other players online.
Getting it to Work
Diablo II may be an undisputed classic, but it's also an old game. Modern systems often have trouble running it. If you cannot get the game or demo to play correctly on your system, then consider doing the following steps.
Right-click the Diablo II icon on your desktop.
Go to "Properties."
Select the "Compatibility" tab in the new window that appears.
Check the box that's labeled as: "Run this program in compatibility mode for:"
The drop-down menu below it can now be operated. Choose Windows XP Service Pack 3.
Select the following checkboxes under the Settings heading: "Run in 256 colors" and "Disable desktop composition."
If you would like to play Diablo II on a limited or guest account on your computer, be sure to run the game as an administrator. To do this, check the box that says: "Run this program as an administrator." This can only be done on an admin account, so either complete this step in it or press the "Change settings for all users" button to get into the admin account quickly.
Press the OK button. Congratulations, you're ready to play Diablo II!
Rend Your Foes Asunder with the Barbarian
The best way to conquer evil is to hit it where it counts. If that doesn't work, then you need to hit harder with a bigger weapon. That's how the Barbarian rolls. If you want to make mincemeat of Diablo's minions up close and personal, this is your ideal class.
Unleash a variety of battle cries that can buff you and your allies, strike fear into the hearts of your enemies, or help you find items.
Gain mastery over nearly every type of melee weapon.
Utilize strong physical attacks. Knock enemies back with Bash or slice several apart with Whirlwind!
Prove Your Strength with the Amazon
She can fight, shoot and cast spells. The Amazon does everything possible to keep evil at bay. Capable of dealing damage from a variety of ranges, this class boasts the greatest amount of flexibility in Diablo II.
Deal with demons at close range with an assortment of deadly spear attacks.
Use your bow and arrow to slay enemies from a distance. Blow them up with the Exploding Arrow, take out several with Multiple Shot, and more.
Improve your prowess with a select number of spells. See the enemies' weak points with Inner Sight, dodge their ranged attacks easily by using Slow Missiles, or confuse them by setting up an illusory decoy of yourself.
Master Death with the Necromancer
For the hero who doesn't want to get his hands dirty, the Necromancer is unequaled. Rather than deal direct damage, he can instead curse his foes or simply call on some friends from the other side.
Summon an army of skeletons and golems, and trounce everything that gets in your way.
Curse your foes. Paralyze them with fear, weaken their performance, or trick them into betraying their own side.
Invoke the power of the bones to protect yourself.
Control the Elements with the Sorceress
The Sorceress specializes in causing destruction over a wide range with her array of magic spells. She may not be the most durable heroine out there, but that doesn't matter; everything she faces will be dead long before she comes within reach.
Burn the legions of Hell alive with Fire magic.
Summon storms or teleport at will with Lightning magic.
Freeze your foes and encase yourself in a protective icy barrier with Cold magic.
Light the Way with the Paladin
In these dark times, people need heroes to provide guidance and hope. Through his bravery and the magical auras he evokes, the Paladin provides both.
Call forth defensive auras to resist the elements and buff allies in combat.
Invoke offensive auras to weaken or damage anything that comes too close.
Enact divine retribution through the Paladin's combat skills. Smite evil with your shield or summon a Blessed Hammer for assistance.
Hell has Never Been So Heavenly
What more is there to say? Diablo II is over a decade old and it still remains as one of the most widely played RPGs ever thanks to its sheer amount of variety and replay value. If you have any doubts, check out the freeware demo.
Take control of a Barbarian hero and guide him through his first adventure in Act I. You can only learn the first-level abilities in his skill tree, but you can level up as high as you want and equip every item that is permitted by the class. Take your time; Hell will be waiting for you.
Screenshots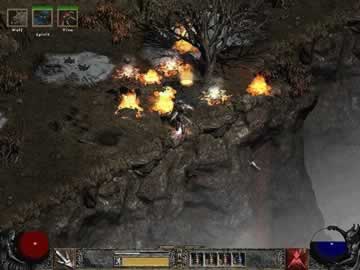 Download Free Game Become a Force of Reckoning as You Hack and Slash through Hell!
Download