Invention 3
| | |
| --- | --- |
| Release Date | 27 May 2022 |
| Genre | Action |
| Game Developer | Falcoware |
| OS | PC Windows |
| Language | English (United States) |
| Memory | 1024 MB RAM |
| File Size | 817 Mb |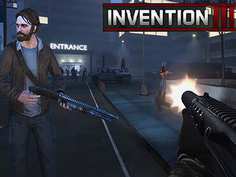 Invention 3
In this game you have to fight your way through hordes of zombies in search of a safe place. Be careful, the dead are very fast and ruthless. Try to explore the surroundings to find weapons, ammo and first-aid kits.
Games with the same theme
The objective is simple: survive. The world has gone mad and the undead now walk the earth. There's no telling where safety lies anymore – it could be anywhere from a small town all the way to a large city overrun with zombies. Your only hope is to arm yourself with whatever you can find and make a run for it!
Luckily there are plenty of places where you can find weapons, ammo, health packs and other supplies necessary for survival against these zombies! Just be careful – they're everywhere so don't let your guard down for even a second or you might end up being zombie food yourself!
Screenshots