Join Diego on His Big Adventure!
What's Free - Play game for 100 minutes.
File Size - 13 MB
Play It On - Win XP/Vista/7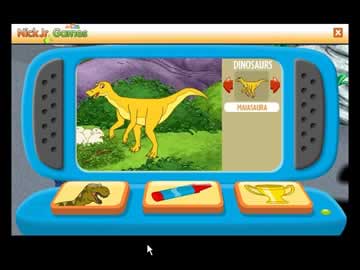 Join Diego on His Big Adventure!
Educational games are a great tool for teaching children in a fun and effective manner. This entertaining and engaging game will keep kids busy for hours, and your child's mind will benefit greatly from the experience.
Games with the same theme
Not Too Easy -- Difficulty Level is Perfect
Many games for children are frustratingly easy, and essentially let the child complete the level without any real effort. Diego's Dinosaur Adventure is the perfect skill level. It's not too hard, but it does require some effort. Your kids will appreciate the fact that the game takes them seriously and doesn't dumb everything down for the sake of learning.
Kids Learn All About Dinosaurs
Diego's Dinosaur Adventure teaches children all about dinosaurs including their names and how to pronounce them, what their bones look like and how they fit into their skeletal frame, and their habitat and what they eat. The dinosaur bones are collected and earned by your kids as a reward for successfully completing the minigames.
Many adults and children alike are crazy for the 'collect them all' style games, and Diego's Dinosaur Adventure delivers a unique collection experience.
Fun and Varied Minigames -- Sure to Satisfy Any Child!
This game has many fun minigames that will keep kids entertained and challenged for hours, including:
* Racing
In the dinosaur racing game, kids may choose their favorite dino as a racing partner and then guide them through an obstacle laden race track. Each dino has their strength and their weakness, and it is important to remember both during the race. Water, wood and stone will either trip up your dinosaur or give it a powerful speed boost depending on the type of dinosaur you are racing with.
* Matching
Matching is taken to a new level in Diego's Dinosaur Adventure. Eggs are hatched and then the baby dinosaur must have its needs met in order to grow into a thriving adult. Kids click and match the bubble containing the dinosaur's need to the corresponding dinosaur. The number of dinosaurs increase with the level of the matching game, giving your kid an excellent mental workout.
* Flying
In this minigame, children guide a flying dinosaur through the trees in order to get to the dinosaur's nest. This would be simple if it weren't for the wind, other dinosaurs and falling boulders. Be sure to keep your dinosaur's energy up by eating lots of tasty bugs!
* Egg Rescue
In this game, Diego is gathering up lost eggs in order to bring them back to their nest. The gameplay is reminiscent of a claw machine, and kids must time the fall of the claw with care.
* Maze
Kids guide Diego through a challenging maze and feed a few hungry dinosaurs along the way!
* And Much More...
Overall, Diego's Dinosaur Adventure is a game that most younger children will enjoy immensely, and you can feel good about the time your child spends playing this educational learning game. A must for any young dinosaur fan!
Screenshots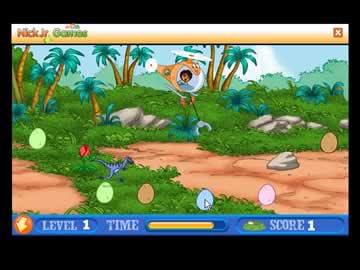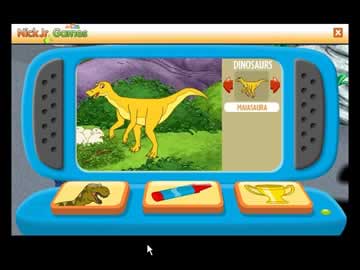 Download Free Game Join Diego on His Big Adventure!
Download