Runefall 2
| | |
| --- | --- |
| Release Date | 11 March 2022 |
| Genre | Match 3 |
| Game Developer | Playcademy |
| OS | PC Windows |
| Language | English (United States) |
| Memory | 1024 MB RAM |
| File Size | 273 Mb |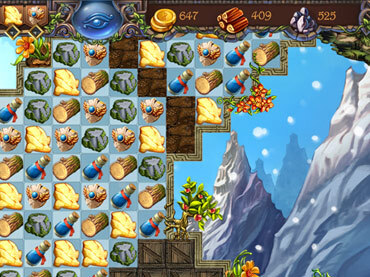 Runefall 2
Return to Silverdale and Continue the Story of Rivermoor in Runefall 2
Welcome to Runefall 2, the exciting sequel to the beloved match-3 game, Runefall! In this new adventure, you will return to the kingdom of Silverdale to continue the story of this brilliant series. But this time, you will be tasked with an important mission: to chase a bandit who has stolen the chronicle runes across the land.
Games with the same theme
Solve Quests and Earn Rewards
In order to earn rewards, you must complete quests. These rewards can range from new power-ups to game upgrades that will help you progress. You will learn more about the game's intriguing plot as you complete quests.
Discover New Locations and Treasure Maps
Are you ready to travel to new places and discover hidden treasures? There are numerous areas to explore and treasure maps to discover in this sequel. Find new items, treasure, and more when you make way deeper into the game after every level! It is your responsibility to locate all of them!
New Features and Upgrades
Another great thing is that all the levels are now replayable and can be saved at any time without losing progress! Additionally, there are numerous new features and upgrades to make the gameplay even more customizable to each player! You can even keep exploring levels after you've finished them, earning badges for completing them completely. Large matches can be used to create explosives, allowing you to blast your way through. New types of game pieces and blockers to destroy, updated bonus goals, improved minigames and quests, new runes and journals to collect, new level progress tracking, and new characters to meet are all included.
A Match-3 Game Like No Other
Runefall 2 is a match-3 game like no other. Every match you make moves you around the world to explore and find unique items, treasure chests, veins of resources, obstacles to overcome, and more! With immersive gameplay and stunning graphics, it will keep you entertained for hours on end. So, what are you waiting for? Start playing Runefall 2 today and join the adventure!
Screenshots