Adventure Mosaics: Lost Expedition
| | |
| --- | --- |
| 🔥 Release Date | 15 December 2023 |
| 👾 Genre | Puzzle Nonograms |
| ✅ Game Developer | DigiMight |
| 💻 OS | Windows 11/10/8/7 |
| 🇺🇸 Language | English (United States) |
| 📁 File Size | 131 Mb |
| 💰 Price | Free! |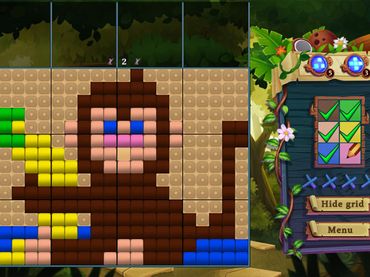 Adventure Mosaics: Lost Expedition
Uncover the Hidden Secrets in Adventure Mosaics: Lost Expedition
Prepare yourself for a puzzle-solving quest like no other! Adventure Mosaics: Lost Expedition will whisk you away to uncharted territories filled with hidden treasures and captivating mysteries. Get ready to embark on an exhilarating journey as you uncover the secrets that lie within this extraordinary mosaic adventure.
Games with the same theme
Explore Enigmatic Territories
Prepare to delve into unexplored realms as you traverse breathtaking landscapes and encounter intriguing locales. From dense jungles to ancient ruins, each territory holds its own secrets waiting to be discovered. Immerse yourself in the wonder and beauty of these uncharted lands as you piece together stunning mosaics that reveal hidden passages and unlock the path to adventure.
Features Immersive Environments: Explore captivating territories, from lush jungles to ancient ruins. Intriguing Puzzles: Challenge your mind with a variety of intricate and engaging puzzles. Stunning Mosaic Artwork: Piece together beautiful mosaics that reveal hidden passages and unlock new areas. Ancient Treasures: Uncover legendary artifacts and delve into the rich history of forgotten civilizations. Epic Adventure: Embark on an exhilarating journey filled with mystery, excitement, and discovery.
Download Free Game Adventure Mosaics: Lost Expedition
Download