Farm Frenzy Refreshed. Collector's Edition
| | |
| --- | --- |
| 🔥 Release Date | 30 June 2023 |
| 👾 Genre | Time Management |
| ✅ Game Developer | Alawar |
| 💻 OS | Windows 11/10/8/7 |
| 🇺🇸 Language | English (United States) |
| 📁 File Size | 204 Mb |
| 💰 Price | Free! |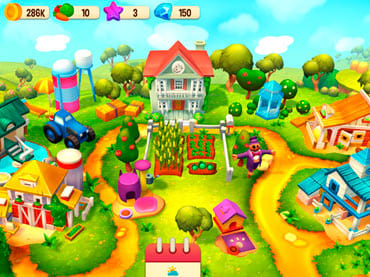 Farm Frenzy Refreshed. Collector's Edition
Live Your Farming Dreams in Farm Frenzy Refreshed. Collector's Edition
Games with the same theme
Are you ready to experience the thrill of farm management like never before? Get ready to embark on a captivating journey as you step into the vibrant world of Farm Frenzy Refreshed. Collector's Edition. With its enticing blend of addictive gameplay, strategic decision-making, and adorable farm animals, this game will have you hooked from the very first moment you step into your humble homestead. Prepare to don your virtual overalls and dive headfirst into the charming and bountiful world of farming.
Conquer Challenging Time Management Tasks
Time is of the essence in Farm Frenzy Refreshed. Collector's Edition, the premier collection from Alawar Entertainment. Grow an array of crops, take care of your fresh eggs, tend to your feisty animals, prevent ravenous bears from attacking, and ensure the smooth operation of your animal farm. But beware, the challenges will test your skills as you strive to maximize your profits and create the most prosperous farm in town. As a shrewd farmer, you'll need to manage your time wisely to meet the demands of your bustling farm. Juggle multiple tasks simultaneously with skillful play, make quick decisions, and keep a keen eye on the clock to succeed. Can you handle the pressure and become a master multitasker?
Features Engaging Gameplay: Dive into addictive farm management mechanics that will keep you captivated for hours on end. Charming Farm Animals: Interact with adorable and lively farm animals that bring your farm to life. Strategic Decision-Making: Make crucial choices to optimize your resources and maximize your farm's productivity. Unlockable Levels and Surprises: Explore new levels and unravel hidden surprises as you progress through the game. Test Your Time Management Skills: Juggle multiple tasks and deadlines to prove your ability to handle the pressure of farm management.
Download Free Game Farm Frenzy Refreshed. Collector's Edition
Download