Farm Craft
System Requirements
OS: Windows XP/Vista/7/8
CPU: 600 Mhz
RAM: 512 MB
DirectX: 8.1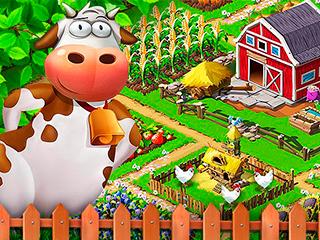 Farm Craft
Full version game 23.2MB
Games with the same theme
WALKTHROUGH
Farm Craft
Time Management Girls
Download Download
Farm Craft – All the fun of the farm!
If you're looking to replicate the fun of games
Advertisement
like Farmville on your PC without the annoying in-play purchases, then Farm Craft, developed by NevoSoft is a farming simulation game you're sure to enjoy, and are sure to find just as addictive and fun to play as any game you can find on your phone.
Farm Craft – The Plot
Farm Craft is set in the countryside and you play as Ginger, a girl with an exceptional gift for farming. You main goal is management of your own farm including crop planting, fertilization, watering and ranching of animals. You also need to help out neighboring farms as an agricultural conglomerate called AgroCorporation, who wants to take over the land, affects the other farms in harmful ways. Neighboring farms may be flooded, dry or having trouble selling crops and you will need to help out. If you like the idea of farming but want a touch of magic along with your crops you may also like Magic Farm.
You can earn money from sale of crops and produce from your animals and use it to extend your farm or hire farm hands to help out, but you will need to make your own decisions about the best way to spend your money to reach the goal at the end of each level. Don't worry about not doing too great at first though, as if you're not happy with your performance, then you can always replay each level to try different success strategies. There is also the added bonus of mid-level surprise tasks to keep the game interesting. Each level has a timer, which you will need to stick to in order to earn the trophies on the game. For hints and tips, the detailed graphics on the game allow you to see details such as dirt drying out before you get the alert that your crops need watering. You may also want to download Big Farm if you're enjoying this type of game and we have a ton of other time management games and strategy games on offer.
Features of Farm Craft
Why is Farm Craft so popular, you may ask. Well here, we list a few of the best features in the game so you can decide if this is a download for you.
· Design and build your own farm layout
· Need to grow crops and cultivate land
· Need to care for animals such as chickens and cows
· Need to help neighboring farmers
· Surprise mid-level tasks
· Excellent graphics
· Fun and addictive gameplay
As you can see, there are tons of good reasons to give Farm Craft a try, so why not try your hand at building your own farm. If you find that it's a game you love, then you could always try the sequel – Farm Craft 2!
Game Features
Excellent graphics
Fun, addictive gameplay
Build and design your farm to meet your needs!
System Requirements
OS: Windows XP/Vista/7/8
CPU: 600 Mhz
RAM: 512 MB
DirectX: 8.1
License Information
All our PC games were licensed for distribution as freeware by other game publishers or developed by internal game studio.
No pirated software, 100% legal games.
More game tags Addicting Games Best Games Business Games Driving Games Free Games Free Games Download Free PC Games Fun Games Funny Games New Games Strategy Games Top Games Tycoon Games Windows 7 Games Windows 8 Games WALKTHROUGH
Screenshots