Operation "Return Gifts"
Windows XP/Vista/7
Processor 800 Mhz or better
512 Mb RAM
DirectX 8.1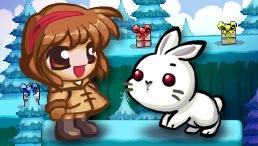 Operation "Return Gifts"
What do you think about Christmas time? What emotions may enter your everyday life when you start preparation to this wonderful holiday? If you want to feel the spirit of the holiday right now, try the new game Operation "Return Gifts" and dive in the world of Christmas gifts. Poor Santa Claus! He is so busy during this period of time that he becomes really absent-minded. During his trip in the holiday carriage harnessed with his devoted deer he lost some of the presents. Don't let the valuable gifts disappear in vain! Start the campaign to collect all the boxes and bring them back to the disappointed Santa. Only you can succeed in Operation "Return Gifts". Guide a cute little girl called Candy who is eager to help and find them. She can be really swift and achieve high speed in her attempt to help the old man as soon as possible. The girl can also jump high and overcome all the obstacles and abysses easily. However, you should guide her very carefully as one careless movement and… you lose one candy! This sweet thing symbolizes life in the funny game Operation "Return Gifts". Be aware of the rabbits with the red eyes as they are really dangerous guards of the lost gifts. Remember that you have only 4 lollipops and at the end you can either start the game from the very beginning or continue it with only one candy in store. Download the game and collect as many presents as you can to return them all to happy Santa!
Screenshots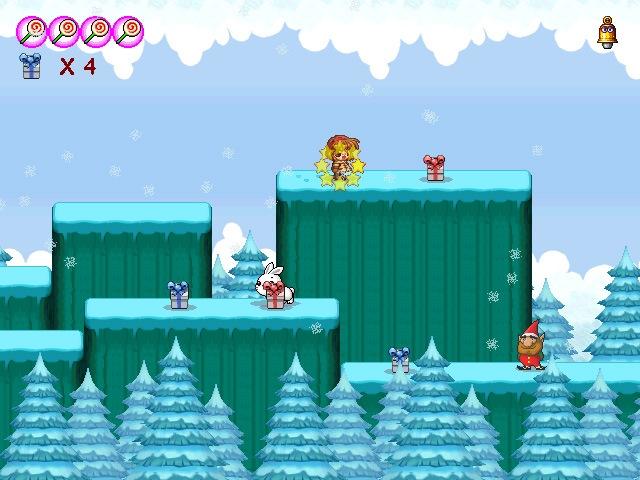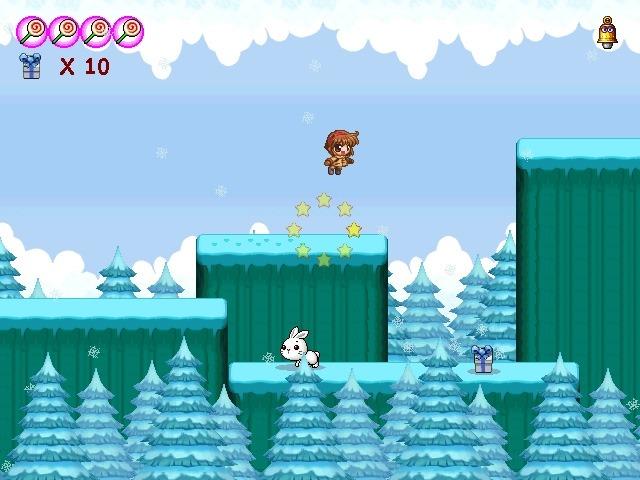 Download Free Game Operation "Return Gifts"
Download