Amazing Vacation: San Francisco
| | |
| --- | --- |
| 🔥 Release Date | 14 July 2023 |
| 👾 Genre | Hidden Object |
| ✅ Game Developer | Lazy Turtle |
| 💻 OS | Windows 11/10/8/7 |
| 🇺🇸 Language | English (United States) |
| 📁 File Size | 87 Mb |
| 💰 Price | Free! |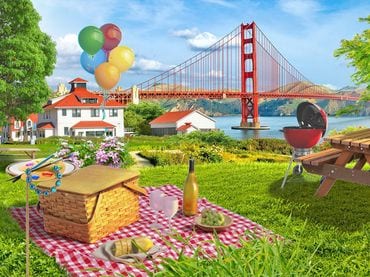 Amazing Vacation: San Francisco
Uncover the Wonders of San Francisco
Prepare to be captivated by the enchanting city of San Francisco as you embark on an extraordinary vacation like no other. Get ready to explore its hidden gems, iconic landmarks, and immerse yourself in its vibrant culture.
Games with the same theme
Solve Intriguing Puzzles and Uncover Secrets
Step into the shoes of an intrepid adventurer and solve captivating puzzles to unlock hidden secrets that lie beneath the surface of this magnificent city. From ancient mysteries to modern-day enigmas, you'll unravel the threads of intrigue and uncover a world of surprises.
Features Thrilling Exploration: Dive into the vibrant cityscape of San Francisco and discover its iconic landmarks, hidden treasures, and cultural hotspots. Intriguing Puzzles: Challenge your mind with a variety of puzzles and riddles that will test your logic, wit, and problem-solving skills. Captivating Storyline: Immerse yourself in a compelling narrative that unfolds as you uncover secrets and forge your own path through the city. Exciting Quests: Embark on thrilling quests that will take you to new locations, introduce you to fascinating characters, and push you to your limits. Vibrant Atmosphere: Immerse yourself in the rich and lively atmosphere of San Francisco, brought to life with stunning visuals, immersive sound design, and a dynamic soundtrack.
Download Free Game Amazing Vacation: San Francisco
Download