Download Minecraft for Free and Create Your Own World!
What's Free - Play game for 100 minutes.
File Size -
Play It On - Win XP/Vista/7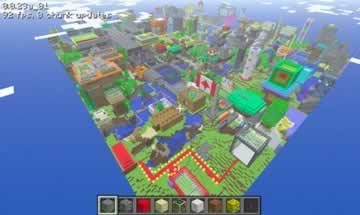 Download Minecraft for Free and Create Your Own World!
Enter the Do-It-Yourself World of Minecraft!
Minecraft is an open world that lets you do anything you want. Farming, mining, questing, breeding, brewing and crafting all await players in this game!
Games with the same theme
The Annoying Orange plays Minecraft - a video that might make you laugh (or it might drive you crazy)
Truly Unlimited Replay Value
Minecraft's free form nature equals endless replay value. You will always be finding new goals and quests to undertake in this game. The only limit is your own imagination! Minecraft is never the same game twice.
Survival of the Fittest
In survival mode, the goal of the game is to survive and thrive in a fierce overworld full of danger and hunger. When your player is first born, your most pressing goal is to build shelter and survive the first night. After that, your character will create their first tool, which is usually a pickaxe. This newly acquired pickaxe will open up the wide world of mining and gathering raw materials. These raw materials may be crafted into a wide variety of useful items.
Gathering items and materials is one of the most time consuming and rewarding aspects of the game. Monsters often drop the rarest and greatest materials for crafting, so questing and battling mobs is a big part of the game.
Survival mode does have a definitive ending, but the game doesn't stop there. You may continue playing the game in this mode even after the core objectives have been met.
Create Anything in Creative Mode
There are unlimited blocks and resources in creative mode, freeing players to unleash their wildest imaginings. With no hunger or health bar to worry about you can focus on building just about anything you can dream up. Cities, roller coasters, sets from movies and TV shows and more are just waiting to be built. The possibilities are truly endless!
In addition to being essentially invincible, players can also fly in creative mode. Flying is both fun and practical, enabling you to move much faster than walking.
Gameplay Changes According to Your Moods
The world of Minecraft is directly shaped by the player who plays it. Go from farming one day to slaying monsters the next. It's all entirely up to you. Minecraft defies strict genre rules and allows you to let your imagination run wild!
Endearing Art Style
Few people are immune to the charming 8 bit inspired artwork in Minecraft. The intentionally blocky style lends itself easily to a wide variety of different creations.
Minecraft is a game that appeals to anyone with a creative streak. If you can think it, you can make it!
Guides, Strategies, and Hints
The Minecraft Guide 01 - How to do 6 essential things on your first day to make a shelter and survive
The Minecraft Guide 02 - How to take advantage of the different climates, geography, and villages
The Minecraft Guide 03 - The most reliable ways to get food for yourself
Screenshots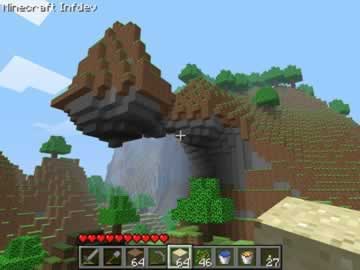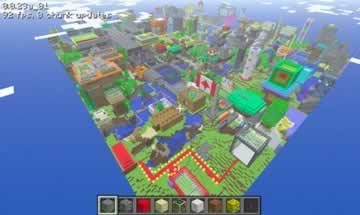 Download Free Game Download Minecraft for Free and Create Your Own World!
Download