Explore Four Storybooks to Find the Crystals and Save the Crystal Kingdom!
What's Free - Play game for 100 minutes.
File Size - 39 MB
Play It On - Win XP/Vista/7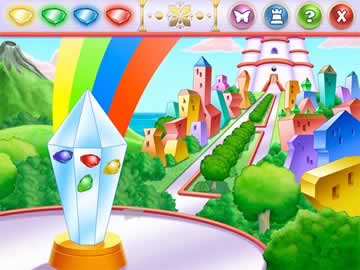 Introduce
Explore Four Storybooks to Find the Crystals and Save the Crystal Kingdom!
Find the Crystals! Save the Kingdom!
The Crystal Kingdom was once a beautiful land of many colors, thanks to the presence of the Four Crystals. But the Greedy King wanted to keep them all for himself. So he snatched them all up, and hid them within four separate story books so that no one would ever find them! Without the crystals, the Crystal Kingdom has now become a drab, black-and-white world devoid of color and hue!
Not one to stand aside, famed explorer Dora, alongside her monkey sidekick, Boots, and their new friend from the Crystal Kingdom, Allie, set out into the stories to recover the crystals, defeat the Greedy King, and bring color back to the lands!
A Variety of Attention-Getting Games to Play
Dora Saves the Crystal Kingdom is never short on variety. In some sequences, Dora, Boots, and Allie work together, exploring the stories of the Crystal Kingdom, the Dragon's Land, the Magician's Castle, and the Butterfly Cave. They jump from platform to platform, cloud to cloud, collecting crystals as they go while avoiding the Greedy King's dastardly spells!
In another, Dora singles out bunnies among other woodland creatures to catch. She also fills in the missing pieces in sequential patterns of gems, matches up words to their correct identifying image while inside a cave, and wakes up a giant caterpillar via the skill of song.
Don't fret about anyone getting stuck! Dora is always ready and willing to provide help via fully voiced instructions for easy following and understanding. Your children will never once be lost!
Get the Kids to Pick Up New Skills!
As always, Dora is here to help your little ones learn a few new things along the way! They'll learn about geometry by looking for a dragon behind various shaped clouds, practice their memorization skills with a rhythm game involving butterflies, figure out how to spell and pronounce words, and make use of color-identification when they finally confront the Greedy King once and for all! They may even pick up little Spanish as well, including how to count in that language.
Earn More Bang for Your Buck!
Dora Saves the Crystal Kingdom provides additional value by encouraging multiple replays! Unlock more and more prizes and rewards for each completion of Adventure Mode. Earn free, printable coloring book pages to bring color back to the Crystal Kingdom the old fashioned way; with markers, crayons, and colored pencils. And open all mini-adventures in Arcade Mode to play them again and again at any time!
Screenshots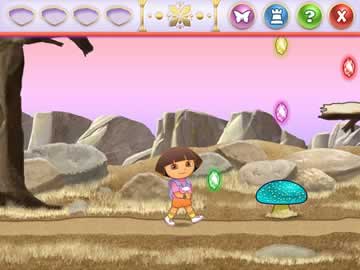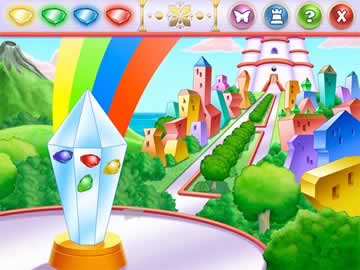 Download Free Game Explore Four Storybooks to Find the Crystals and Save the Crystal Kingdom!
Download