Grow Crops, Raise Livestock, and Sell the Produce on Your Own Farm!
What's Free - Play game for 100 minutes.
File Size - 212 MB
Play It On - Win XP/Vista/7/8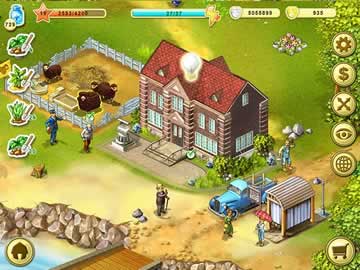 Grow Crops, Raise Livestock, and Sell the Produce on Your Own Farm!
Down on the Farm
We have all heard the song of Old MacDonald and his farm, but what about Old Jennifer? She put together quite a farm as well, which you'll experience firsthand in Farm Up. Go back to the days of her youth as a newlywed lass in the 1930s and help her get the new farm up and running.
Games with the same theme
You'll grow a variety of crops, raise all sorts of animals, and sell the goods you produce at a profit. Just remember the old proverb that time is money; everything has a cost and everything needs time to grow. Spend both wisely, and your little plot of land may one day become a vast plantation that practically grows money from trees.
Live the Simple Life
Country living may be called the simple life, but that doesn't mean there's no hard work involved. Between the repairs you'll have to make, the crops you'll have to grow, and the animals you'll need to take care of, there's only so much time and money to go around. Better hop to it, cowgirl!
Grow over 30 different kinds of crops, including radishes, potatoes, watermelons, eggplants and more.
Raise all sorts of livestock, including chickens, cows, sheep and even bees.
Watch you plants and animals grow big, strong and tasty over time.
Take care of your crops and livestock. Give them ample water and food before they wither away.
Drive away pests with a click of your mouse.
Head on over to the storehouse to sell your produce for cash.
Put in pathways, flowers and other ornaments to make your farm a more attractive locale.
Build structures to enhance your farm in any number of ways. Build fences to keep out the pests, set up windmills to drive away moles, buy a sawmill to produce wooden planks, and more.
Pace Yourself!
You might be feeling all fired up to turn your farm into a success, but slow down there, partner. It takes a whole lot pf strategy to keep a farm running smoothly. Keep a cool head and plan for the future. It'll be here before you know it.
Gather and manage five different resources: water, lumber, planks, stones and bricks.
Gain experience to increase your level and open up more exotic goods for you to produce.
Bank three different types of currency: silver coins, gold coins and gems. Different goods require different coins to buy.
Maintain your Energy! Energy is needed to perform every single action, like tilling soil, watering plants, drawing water from the well, and harvesting. Don't ever come up short.
Time yourself strategically. Nothing is instantaneous in Farm Up, so manage your time wisely.
Complete a never-ending supply of quests doled out by the neighbors to earn extra experience, energy and resources.
Buy the Farm for Free!
Farm Up offers a colorful and highly strategic game of management that is suitable for people of all ages. You have a nigh unlimited number of ways to develop your farm, and you don't need to spend a cent of real money to do so. Saddle up with Farm Up today, cowgirl!
Screenshots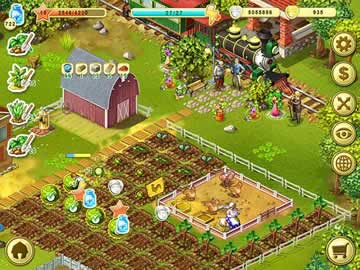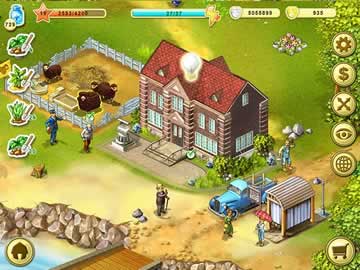 Download Free Game Grow Crops, Raise Livestock, and Sell the Produce on Your Own Farm!
Download