Help SpongeBob Win the Typing Tournament!
What's Free - Play game for 100 minutes.
File Size - 417 MB
Play It On - Win XP/Vista/7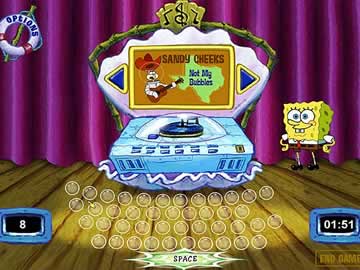 Help SpongeBob Win the Typing Tournament!
A Typing Game With a Fun Storyline
If you're tired of boring typing tutors, say hello to SpongeBob SquarePants Typing! This game plays out like a real episode of the show and features a complete storyline that makes the game a memorable experience.
Games with the same theme
At the start, Mr. Krabs decides to inspect the dumpster behind The Krusty Krab, hoping to catch his employees throwing away any slightly used pickles. During his dumpster diving, Mr. Krabs finds a typewriter instead. Mr. Krabs believes he has found a cash register and tries unsuccessfully to break it open to reveal the money inside. \
The noise draws the attention of Squidward, and he lets his boss know that the item is actually a typewriter. Mr. Krabs is determined to make a buck off of his find anyway, so he comes up with a plan.
Mr. Krabs tries to sell the typewriter as a new menu item called the Wordyburger, but no one buys it. Undaunted, Mr. Krabs goes to plan B and holds the first ever Bikini Bottom Typing Tournament. The grand prize is a seanut butter and jelly sandwich, and admittance costs $5 per contestant.
Squidward doesn't think anyone will fall for it, but he underestimates the residents of the town. Sea creatures form a long line in front of the restaurant for their shot at taking home the prize, and SpongeBob hurries to join them, not knowing what he's in line for. Squidward tells him that he's in line for the Bikini Bottom Typing Tournament, and SpongeBob initially rejoices, because he's an excellent tapper!
When he finds out that it's actually typing and not tapping, he's a little disappointed but completely unwilling to miss out on the excitement. SpongeBob has an ace up his sleeve; he has a friend to help him figure out this whole typing business. That friend is you!
All Your Favorite Characters in Fabulous Cutscenes
Join SpongeBob, Mr. Krabs, Squidward, Patrick, Gary the Snail, Sandy Cheeks and many more of your favorite characters from the show as they battle it out for typing glory. There are many fantastic cutscenes throughout the game that look like they came from an episode of the show, and they feature the same type of dialogue you would expect from the series.
Lots of Humor!
One of the most popular aspects of SpongeBob SquarePants is the humor, and this game captures the essence of it wonderfully. Be ready to laugh out loud often while honing your typing skills.
Great Minigames
There are several minigame activities that will help you master your typing skills in an engaging and entertaining manner. These arcade style activities feature settings that reference actual episodes of the show. In Snail's Pace Race, help Gary become the speediest snail on the race track, or help SpongeBob show Mrs. Puff that he's finally ready for his license in The Glove World 500.
Other great games include Senseless Patrick, Doh Ray Me and A Star is Born.
Excellent Tutorials
SpongeBob SquarePants Typing teaches you proper finger placement, common character combinations and much more.
This game even tackles the importance of posture. A hilarious cartoon cutscene details the dangers of improper posture during typing and provides tips and advice for maintaining good posture during typing sessions.
Lots of Levels and Three Difficulty Settings
This game features 17 levels, guaranteeing loads of fun typing practice. Choose from Beginner Typist, Sailorific and Holy Mackerel difficulty settings to find the perfect fit for your current skill level.
Earn Rewards for Improvement
Accuracy, WPM and speed are calculated at the end of each lesson, and the game gives out colorful certificates to celebrate improvements.
Interesting Material for Your Typing Pleasure
In SpongeBob SquarePants Typing, you'll be typing out paragraphs about exciting aquatic subjects such as mermaids and pirates. There is never a dull moment with SpongeBob SquarePants!
SpongeBob SquarePants Typing is the most enjoyable way to learn essential typing skills. Speed, accuracy, words per minute and posture are all improved with this easy to use game. If you're looking for a typing tutor that's anything but boring, this is the game for you!
Screenshots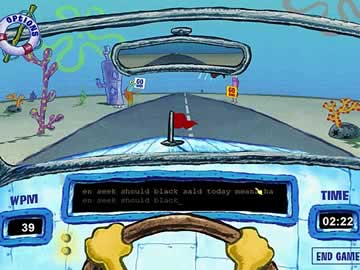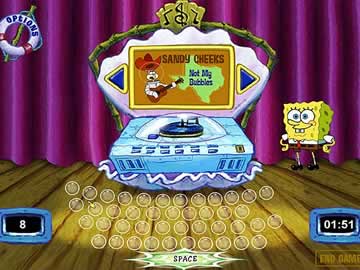 Download Free Game Help SpongeBob Win the Typing Tournament!
Download