Stop the Elementals Before Time Runs Out!
What's Free - Play game for 100 minutes.
File Size - 71 MB
Play It On - Win XP/Vista/7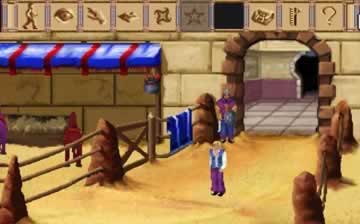 Stop the Elementals Before Time Runs Out!
A New Land in Need of Another Hero
Fresh off his first adventure from the previous game, the Hero of Spielburg and his friends travel to the desert city-state of Shapeir. Thanks to recovering his family's treasure, Abdulla Doo can now live a life in luxury, but he nevertheless has some troubling news for the Hero; the Emir of Raseir, Shapeir's neighboring city, has gone missing.
Games with the same theme
As the Hero looks into the case, he discovers that Raseir seems to have fallen under a tyrannical regime. Worse, Shapeir is about to face its own problems when a host of evil elemental spirits begin to attack the city.
Looks like it's time to save another land in peril. They don't call you the Hero for nothing, after all.
Same Game, New Face
Quest for Glory II: Trial by Fire was first released all the way back in 1990. It has since been considered a fine entry in the series which would go on to shape its legacy. However, for the longest time it remained the only game in the franchise to not get an updated re-release. Fortunately, things have changed. This new version of Quest for Glory II comes with all new features, including:
Updated visuals that add more detail to the world and maintain that early '90s retro charm.
New point-and-click mouse controls and interface. Go entirely with the new user-friendly option, stick with the classic text-parser operation, or blend the two together!
Play the game with the classic tangled maze of streets, or simplify its layout to make navigating the city a breeze.
Not Just an Adventure
Quest for Glory II may look like any old adventure game at first glance, but looks are deceiving. It continues the series' hallmark of blending the adventure and RPG genres seamlessly together into one package.
Play as three classes: fighter, mage and thief. Each has its own unique play style and gives you access to a different guild in the story.
Customize your hero by developing six different attributes: strength, intelligence, agility, vitality, luck and magic.
Master up to nine different skills, including weapon use, stealth, magic, dodging and more!
Purchase new weapons and armor to assist you in combat.
Engage in a number of challenging and fast-paced real-time battles. Fight as dirty or as honorably as you like.
Make choices throughout the quest that will alter the course of your story.
Time yourself carefully! You only have 30 in-game days to complete the quest.
Jump to this Call of Adventure!
This updated edition of Quest for Glory II: Trial by Fire improves upon the original version in many ways. At the same time, it maintains everything that made the original game the classic it is today. Better yet, it's also completely free!
Whether or not you're an old fan of the franchise, if you enjoy adventure games and RPGs, this is not a title you have any reason to miss!
Screenshots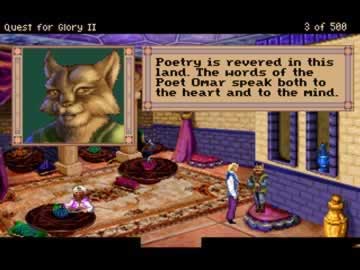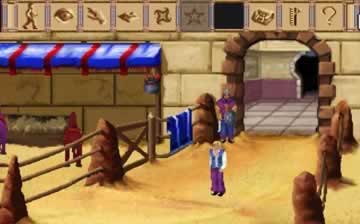 Download Free Game Stop the Elementals Before Time Runs Out!
Download