The Empire Staggers Back!
What's Free - Play game for 100 minutes.
File Size - 300 MB
Play It On - Windows 7 or better

The Empire Staggers Back!
Her Majesty's SPIFFING is a quaint graphic adventure game following the exploits of Captain Frank Lee English and his trusted regional colleague, Aled, as they travel through the cosmos in search of planets to claim for a new Galactic British Empire!

In the wake a political crisis, Britain found itself isolated from global society. Frustrated by the demise of this once great nation Her Majesty, the Queen, concluded that the elected representatives at Westminster were no longer fit to govern her United Kingdom. Having dissolved parliament, improvements were immediate and wide ranging. However, ever the pragmatist, Her Majesty concluded that, given the complications Britain was facing returning to a position of power on earth, perhaps it was time to focus her attention elsewhere...
Screenshots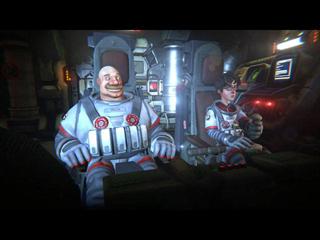 Download Free Game The Empire Staggers Back!
Download