Here is the Exact Arcade Version of Dig Dug!
What's Free - Play game for 100 minutes.
File Size - 7 MB
Play It On - Win XP/Vista/7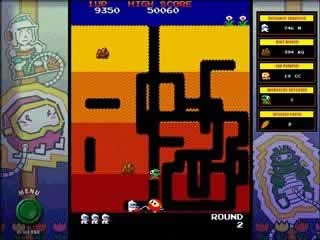 Here is the Exact Arcade Version of Dig Dug!
Play Dig Dug, the Arcade Classic!
Dig Dug is looking to pop those weird underground creatures without getting fried! Snare your enemies with your trusty pump and inflate them until they pop! Use your digging skills to dislodge rocks and squish them for big points!
Games with the same theme
Not a Remake
This is the exact version of the arcade game and not a remake. Choose Classic Mode for a trip down nostalgia lane or the Enhanced mode with better graphics. Play through all 256 dirt-digging levels and test your skills with all new stats!
Rules and Scoring:
Destroy all the enemies on the screen in order to proceed to the next round.
You get 10 points for every section of dirt you clear on a level
Get an extra life after reaching 20,000 points, 60,000 points, and every 60,000 points afterward!
Difficulty Level:
Easy: Designed for beginners, plus you start with an extra 2 lives!
Normal: Tuned for PC casual play.
Original: Just like the arcade version.
Mode:
Play Classic Arcade mode, featuring all the original arcade graphics you know and love,
New Enhanced Mode with updated graphics and sounds!
Controls:
Pressing an arrow key or moving the mouse will move DIG DUG in the corresponding direction.
Throw the harpoon by pressing the Spacebar or clicking the Mouse Button.
When the harpoon has hit a Pooka or Fygar, use the pump to inflate it by repeatedly pressing the Spacebar or clicking the Mouse Button.
To pull the harpoon out from the monster, move DIG DUG in any direction.
Hints & Tips:
Watch out for Fygars (the green monster). They breathe fire that can get DIG DUG from a distance and through dirt. Fygars can only breathe fire horizontally.
Enemies are worth more points if you blow them up at lower depths.
A vegetable appears if you drop two rocks during each round. The more rounds you clear, the more points the vegetables are worth.
You can use your pump through small walls of dirt
DIG DUG Facts
DIG DUG's actual name is Taizo Hori, which is a pun on the Japanese phrase Horitai Zo , meaning, "I want to dig!" I bet you didn't know that.
DIG DUG's son, Susumu Hori is also a famous video game star known as "Mr. Driller".
The world record high score in classic DIG DUG is 4,595,010 points. I bet you can't beat that.
Screenshots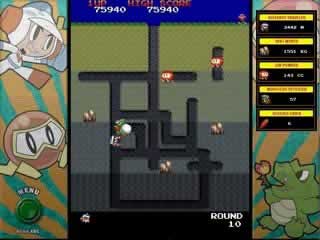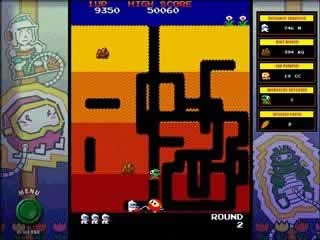 Download Free Game Here is the Exact Arcade Version of Dig Dug!
Download