Enter a Classic RPG Adventure to Help Three Youths Confront a Power-Hungry God
What's Free - Play game for 100 minutes.
File Size - 66 MB
Play It On - Win XP/Vista/7

Enter a Classic RPG Adventure to Help Three Youths Confront a Power-Hungry God
An Evil God Seeks the Power of Three Youths
If brought together, three young adventurers will have a great power, but an evil god wishes to have that power for himself! Unable to enter the mortal world, the god sets a trap for the trio. Will they be brave and skillful enough to escape the dark plans of the god and finally confront him?
Games with the same theme
Help the trio achieve their destiny in this standalone prequel to the Laxius game series. Enjoy 50 quests, 10 interesting characters that must learn to get along and many hours of classic role-playing game fun!
Battle, Gain Experience and Elude an Evil Trap
You get to choose what difficulty level to play on and how often you want to encounter battles. Gameplay follows that of classic role-playing games. Earn money by completing quests like delivering packages and earn experience to increase character stats by winning battles.
Gather more members to your party and use each character's unique skill, such as Random's healing skill, to win battles. Find or buy dangerous weapons, protective armor and items to cure certain wounds or poisons. Do you have what it takes to lead your party to victory and escape the evil god's trap?
Enter an Enchanting Fantasy World that You Won't Want to Leave
With tons of side quests, treasure chests and an expansive world to experience, this game will entertain you for many hours. The amusing characters and interesting story will entrance you and you won't want to leave the beautiful fantasy world this game creates. Enjoy the fun of countless battles and create the best characters to challenge a dangerous god.
Embark on an epic adventure to survive the god's wrath now with 3 Stars of Destiny!
Screenshots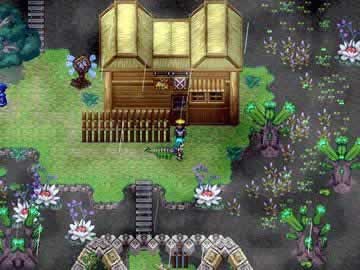 Download Free Game Enter a Classic RPG Adventure to Help Three Youths Confront a Power-Hungry God
Download